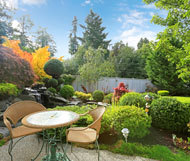 Savvy agents understand that staging homes both indoors and outdoors is vitally important. Here are a few tips to help ensure that your backyard is as distinctive as what's inside:
Create a conversation area with furniture: The area needn't be elaborate; just two chairs pulled close together with a table between can make even the most basic concrete patio special. An outdoor eating option is even more inviting.
Remember the kids: If you have a tree house, fix it up and paint it bright colors or add sporty designs to get the attention of the kids. Just make sure the tree house is safe. Add a tire swing to a tree and have a basket of balls, toys and a jump rope so kids dragged along can play in the yard.
Firepits/hearths: Few home improvements create the "wow" factor that a backyard fireplace or firepit will. It can create the appeal of a home's interior in the backyard.
Simple fixes: Do a thorough inspection and replace any damaged boards on your deck or fence and apply a fresh coat of paint, stain and sealant if the finish requires it. You should also weed and groom your garden and add some perennials for color.
Creating a backyard sanctuary is one of the smartest things you can do to make your home stand out, so make your outdoor space a destination to remember.