We are proud to announce and recognize our Berkshire Hathaway HomeServices Premier Properties real estate agents and Berkshire Hathaway HomeServices Franchise Award winners!

The following agents received various awards for the year 2018 for our Berkshire Hathaway HomeServices Franchise:


Chairman's Circle – Gold presented to Peggy Isakson, Pat Karley and Diamond Realty Associates. These agents sold 70 or more Residential Units during the year.

Leading Edge Society presented to Sabrina Anderson, Bryan Buhr, Deb Clark, Fatme Younes, Rhona Kreutz, Team Heritage Homes and Tyler Rebrovich. These agents sold 35 or more Residential Units during the year.

Honor Society presented to Jon Bennett, Karena Carlson, Kim Kelsh, Paul Krabbenhoft and Mark and DeAnne Mason. This honor is reserved for real estate agents and teams who rank at the top 15 percent for sales production in a given year out of the brokerage's vast national network of 42,000 sales associates.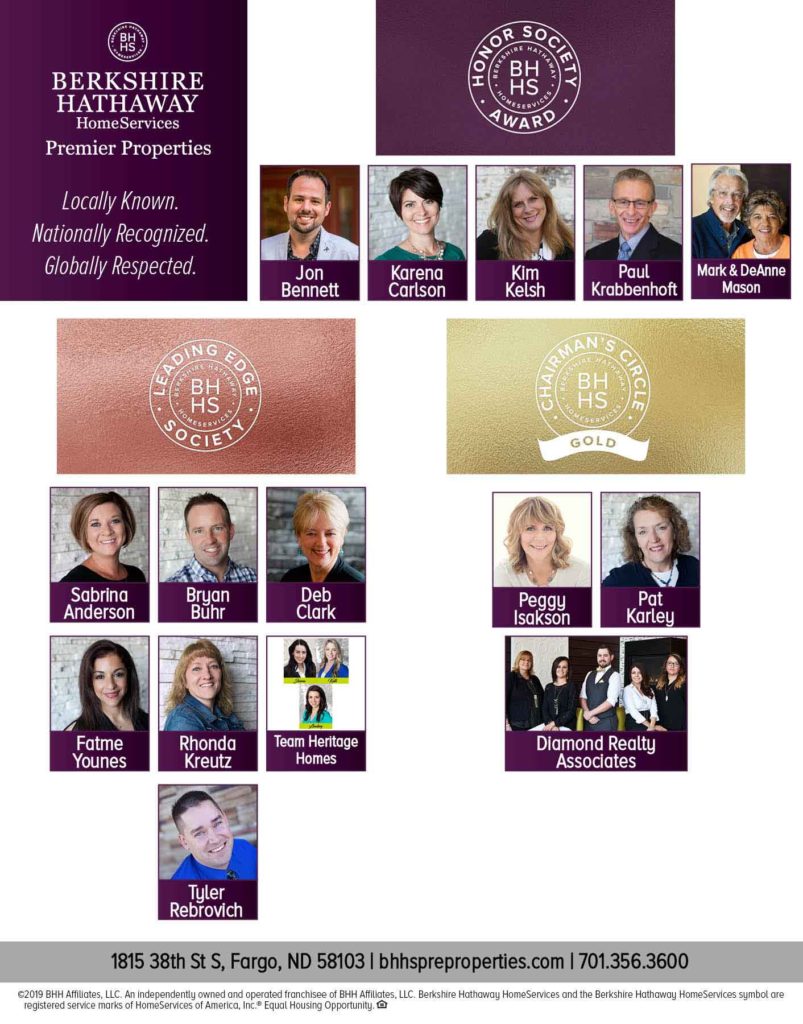 The following agents received various awards for the year 2018 for our Berkshire Hathaway HomeServices Premier Properties Brokerage:


Excellence Award presented to Danielle Anderson, Blake Fason, Tom Houglum, Katie Johansen, Steve Klocke, Justin Kolling, Travis Skonseng, Lyle Rasmussen, Erin Soderstrom and Kim Val Hal

Pinnacle Award presented to Karena Carlson, Amber Carlton, Katie Dewar, Kim Kelsh, Mark & DeAnne Mason and Jenna Nygaard

President's Circle presented toSabrina Anderson, Jon Bennett, Bryan Buhr, Dawn Chadwick, Deb Clark, Peggy Isakson, Pat Karley, Paul Krabbenhoft, Rhonda Kreutz, Mari Santoyo Perry, Tyler Rebrovich and Fatme Younes

Top Sales Associate Producer Award presented to Peggy Isakson with Runner-ups – Pat Karley and Mari Santoyo Perry

Top Team Producer Award presented to Diamond Realty Associates

Rising Star Award presented to Travis Skonseng

Above and Beyond Award presented to our Support Specialist, Ann Sherrill
—
bhhspreproperties.com | 701.356.3600